Content found in this wiki may not always reflect official Church information. See Terms of Use for more information.
Adding Clerk Computers to Management System
From TechWiki
Jump to navigation
Jump to search
> Meetinghouse Technology > Computers
To add your computer to the Church's management system, click on the link below. This process can be done by a Technology Specialist or a Ward/Stake Clerk.
Adding Computer to Church Management
Installing the Application
Listed below are items to be aware of during the installation process. If you run into problems or can't resolve an issue, please contact the Global Service Department.
Warning Dialog:
You may see a warning dialog asking to use caution when downloading the application. Please click the "proceed" button to dismiss the dialog.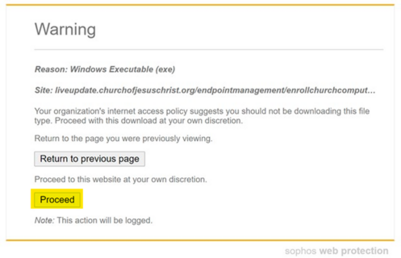 Download Block:
If the web browser blocks the download, right-click on the download, and select "keep."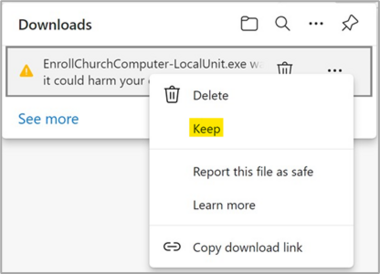 Open File:
Once downloaded from your browser, select "Open file" to install the Management Tools to your computer.

Install and Reboot:
Once the application is installed, it is recommended to reboot your computer. If possible, leave your computer powered on for 24 hours to finish the enrollment and install updates and security patches.