Gospel Library for Windows 10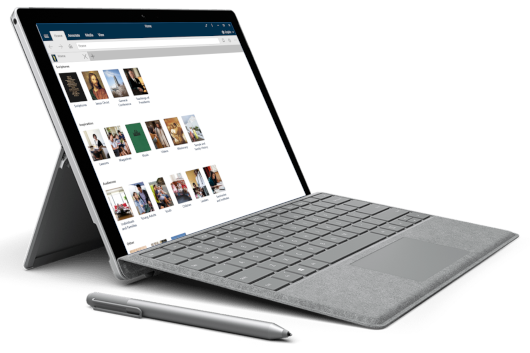 Gospel Library for Windows 10
Gospel Library for Windows 10
Our volunteer team has been hard at work developing a new version of Gospel Library designed for Windows 10, based on feedback from our users. Gospel Library for Windows 10 is available for download via the Microsoft Store for desktops, laptops, tablets, smart phones, and the Xbox One. It is recommended that your device run the Windows 10 Anniversary Update or newer.
Download Gospel Library for Windows 10 from the Microsoft Store
Features New to Gospel Library for Windows 10
Tags - Gospel Library for Windows now supports tags! You can add a tag by going to the Annotations ribbon, clicking the tag icon, and adding as many tags as you like! You can also add a tag to any note when editing your note, or when you first create your note.
Links - You can add a link in Gospel Library for Windows by selecting text you'd like to link, then clicking the Link button in the Annotations ribbon. Then, navigate to where you'd like to link, and select it. Chose the "Link to <PLACE>" option in the ribbon. Your link is now created!
Role-Based Content - Users of the app that need access to calling-specific content, like Handbook 1, are now able to see, open, and use relevant role-based content.
Editing Highlights and Underlines - It's now possible and easy to edit the color, style, and size of your highlights and underlines. Select text with the highlight you'd like to edit, then press the hint bubble to bring up the context menu. If only one highlight is in the selection, you will see it appear with options in the context menu. If there are more than one, a Multiple Highlights option will appear to allow you to select the marking you want to edit.
Download All and Download Section - Windows now allows you to download all of the books in your current language in Gospel Library with only a few clicks instead of a few thousand! To download a section, right click (or long press) on its cover on the home page, then click "Download Section." To use Download All, press the more button (it looks like three dots) on the right side of the Home ribbon and click "Download All".
Notebooks - Gospel Library for Windows now also allows you to create notebooks, view content in your notebooks, and add annotations to existing notebooks via the new annotations pane!
Tabs at the Top - The tabs feature has become distinctly more tab-like, allowing you to make use of browser-like tabs to quickly and easily flip between open pages of Gospel Content.
Open Reference in New Tab or Window - In addition to the very tab-like tabs, you can now also open references to other materials in a new tab or window by right-clicking or pressing and holding on a reference, then choosing "open in new tab" or "open in new window".
Multi-Window Support - You can now have as many Gospel Library windows open at a time as you need so that you can be more flexible in your studies.
Sheet Music - The Sheet Music feature has returned, now available in more languages than ever before. This feature is now also available for the first time on phones. Note: We are still not yet testing on phones. This will change in the near future.
Immersive Mode - With a double tap or double click, you can send the interface away, giving you extra reading space and allowing you to focus on what you're reading.
Breadcrumbs - The new omnibox in Gospel Library for Windows breadcrumbs your trail for you, allowing you to step back through any part of your library journey instantly. Further, you can use the arrows next to each part of the breadcrumbs to jump into a different part of the library quickly. You can also use the omnibox as a quick search to find whatever book or chapter you're looking for.
Custom Themes - We now have a host of custom themes at your disposal in the settings menu. In addition to being able to match your system accent color, you can select a color from a list of fifty colors to customize the look of the application.
No more confusing radial menu - We listened to your complaints about the radial menu, the circle many people dreaded and too few people were able to figure out. In its place are the new ribbons and, now in development, a shiny new context menu to allow you to get marking faster than ever before!
New Content Source - This new version of Gospel Library for Windows consumes a new source for its content, meaning it will always have the exact same content as the iOS and Android versions of Gospel Library (formerly, we shared content with just Android.) This also means that limitations caused by older content, like not being able to mark bulleted or numbered lists, content in tables, and other miscellaneous content, no longer exist. You can mark it all!
Rich Note Formatting - Gospel Library for Windows now also includes a new note editor that provides the ability for you to use bold and italics formatting, as well as bulleted and numbered lists in your notes. Further, you can now include extra spaces between paragraphs to your heart's content. That same note editor offers the ability to add tags and include your notes in any notebook or notebooks of your choosing.
Journal Entries - You can now create a new journal entry from Journals section of the Annotations pane and write your spiritual impressions as they come to you, no matter what you're studying.
Printing - Basic printing is now available in the application. You can print the content of a chapter or article by pressing the more (...) menu on the right side of the Home ribbon and clicking "Print". At this time, notes, highlights, and other annotations are not printed by the application.
Highlight Color Sets - You can now chose from one of six different sets of highlight colors so that your highlights and underlines appear in a way that is most helpful for you--whether brighter or softer.
New, Detailed Help and Tips - A brand new help guide has been written for Gospel Library for Windows 10 that offers help on each of the features of the application and offers tips on how to best take advantage of the tools Gospel Library for Windows 10 offers.
References Pane - An old friend made new again, the references pane and a new lower snap mode for references allow users to skim through a chapter's references with ease. The new references pane also keeps scrolled in sync with you as you read.
Interface Languages - We've made great progress with translating the app's interface into a host of languages: German, Spanish, Finnish, French, Hungarian, Italian, Japanese, Korean, Portuguese, Romanian, Russian, Swedish, and Chinese. We'll continue to add additional languages as contributions allow.
Multimedia Management - The app now offers a media manager to help to remove downloaded multimedia to save space on your device. In addition, you can now download entire books worth of audio instead of needing to download all individual chapters.
Currently in Development
Preparation for Content Catalog Changes - We're now focused on working with the Church's content team on a new format for the content catalog used by all versions of Gospel Library. This change will dramatically improve app stability, speed, and will also drastically reduce data usage.
Gospel Library Beta for Windows 10
We are currently focused on the app as it functions on desktops, laptops, 2-in-1s, tablets, and mobile phones running the Windows 10 Anniversary Update or newer and Xbox Ones running the most recent update. We are not yet testing on Windows Mixed Reality or Surface Hub.
We invite all who are willing to help us test and debug the latest versions of the application to join us by downloading and installing the beta from the Microsoft Store. Keep in mind that this beta is a genuine beta, and has a number of bugs, both known and unknown. Features may be missing, incomplete, or buggy. If you'd prefer a more stable experience, you can download, install, and use the non-beta version of the application via the Microsoft Store here.
Download Gospel Library Beta for Windows 10 from the Microsoft Store
Our Priorities
As Gospel Library for Windows is developed entirely by volunteers, we don't give time frames for upcoming or new features. However, we are prioritizing features that are already available in the current non-beta version of Gospel Library, like custom collections, advanced multimedia settings, and sharing.
How to Give Feedback
We maintain a public list of known issues with the beta that you can review here. It is helpful if you review this list before submitting feedback as it will help us cut-down on redundant feedback. Any issues needing further information will have a note encouraging users experiencing these issues to send any additional information they can provide for our developers. If you have a new issue--or aren't sure whether your issue is new or not--send an email to via the link in the application (Settings > About > Send Feedback). For feature requests, please visit our UserVoice page. When sending error logs, please describe what you were doing when the error occurred--and be as specific as possible. The more information we have about an error, the easier it will be for us to reproduce the issue so that we can correct the error. Please also know that features in the current non-beta application, like the advanced media settings and the custom collections feature, are planned for this new version of the app as well. These features will be added in as app development progresses.
Ways to Help
Gospel Library for Windows is developed and supported entirely by volunteers. In addition to your prayers, we are always looking for more hands to make our work lighter. If you can contribute your time as a tester, translator, or, especially, a programmer, please join our project here on LDS Tech. We'd love to discuss the project with you in our weekly meetings.
Answers to Frequently Asked Questions
1. When will _____ be available in the new app?
As noted above, because Gospel Library for Windows is developed entirely by volunteers, we don't give time frames for upcoming or new features. We are, however, conscious of the fact that Gospel Library for Windows lacks some features that are available on Gospel Library for iOS and Gospel Library for Android and are working diligently to close the feature gap between our app and theirs.
2. Why did you get rid of _____ feature?
Chances are, it's not something we're getting rid of, but something that we still need to bring back. Popular features like custom collections, annotations search, and read along are planned to make their return soon. We intend to bring as many features from Gospel Library for Windows 8.1 to Gospel Library for Windows 10 as quickly as we can. Only one feature will not be returning to Gospel Library for Windows 10: the Inspirational Messages feature.
3. Have you abandoned the Windows 8.1 version of the app?
Although the legacy Windows 8.1 version of the app will remain available for download for the foreseeable future, we have elected to retire support for the Windows 8.1 application in favor of focusing our limited manpower on the Windows 10 application that runs on Windows 10 laptops, tablets, and desktops, Windows 10 Mobile phones, and the Xbox One. We simply don't have the resources to develop both versions of the app, and Gospel Library for Windows 8.1 relies on an older content source that is no longer supported by the Church's content team. Because Gospel Library for Windows 10 uses the same new content source used by Gospel Library 4 on iOS and Android, we feel our efforts are best spent on it.
This page was last modified on 20 May 2018, at 07:33.