Introduction to Tech Projects
Latter-day Saint history is one of sacrifice and service in building the kingdom of God on earth. Through the early saints' contribution of their skills, tools, and organization, the saints built temples, constructed chapels, and established vibrant communities. Skilled engineers, stone masons, designers, wood workers, architects, and other saints all worked together in a collaborative, service-based community.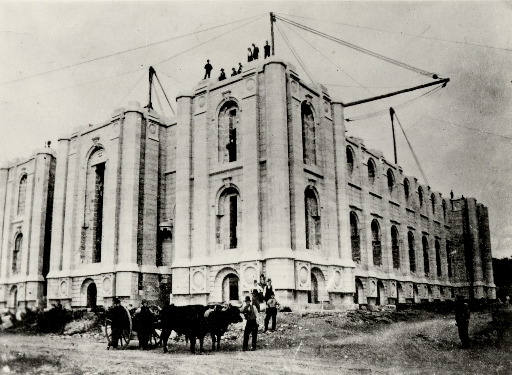 Tech Projects are founded on this same principle of community service. The goal of these projects is to draw upon the technical talents and skills of its members to hasten the work of the Church. Rather than build temples, Tech Project members focus on building software and other technical solutions. Through Tech Projects, more than 800 people work on various technical projects. Thousands more are willing to help. The projects emphasize quality assurance, technical writing, beta testing, and development.
How do you communicate with members?
Tech Projects disseminate information about Church technology through the Tech website.
From the Tech Projects website, volunteers can sign up for projects that match their skill sets. Once volunteers join a project, each project manager sends out communication to his or her team. Most projects also have regular meetings.
Why do we have Tech Projects?
The Church's Information and Communications Services Group (ICS) develops and supports Church technology. Besides FamilySearch, which has its own group, ICS serves all the departments of the Church and works with them to make sure that they are able to accomplish the Church's technical goals. Tech Projects allow volunteers to help with the overwhelming amount of work that ICS does.
In fact, many volunteers serve as Tech service missionaries. These missionaries are integrated into a variety of ICS departments, not necessarily just projects listed on Tech. For example, some Tech missionaries help configure reports for the data warehouse team in ICS.
What is the purpose of Tech Projects?
Tech Projects provide a way for Latter-day Saints and other volunteers to contribute their time to technology efforts that hasten the work of the Church. Tech Projects connect volunteers to a project that requires their skills. Tech Projects help make that connection between ICS and the volunteers, linking the external resources with internal resources. Through this partnership, significant projects are completed.
Who works on Tech Projects?
Many people who want to volunteer and move forward the IT projects of the Church work on Tech Projects. The volunteers span the range of tech-savvy programmers to testers to members merely interested in technology. To start volunteering:
Go to tech.lds.org and sign in with your LDS Account.
Click Projects on the top navigation menu.
Complete the Profile and Skills subtabs.
Sign the Individual Contributors License Agreement. This allows the Church to use your contributions.
Click Projects and join a project that interests you. (When you click a Project page, scroll down and click the Join button to join the project.)
See the instructions on the Contribute page for more details. Also see the volunteer section of the Community Project Handbook.
What if I want to contribute service long-term?
If you want to contribute service long-term, you can volunteer as a service missionary. A service missionary can work either from home or at the Riverton Office Building. To be a service missionary, you need to work at least eight hours a week. You will need to talk to your bishop and stake president to make sure that this service does not conflict with current callings and family commitments.
How else can I serve?
Tech Projects are just one way to serve the community. You can also participate in the Tech Forum by answering questions that people post. The Tech Forum receives many posts a day, and if you have knowledge about a lot of different Church systems and processes, your answers could help many people. If you participate actively in the forums for several months, you may be asked to serve as a forum moderator.
The Tech Wiki also provides opportunities to help out. The Tech Wiki has more than 1,000 pages. You can jump in and start working on tasks identified in the Community Portal.
What projects are available?
All current projects are listed on the Projects menu of tech.lds.org. Currently there are about 30 active projects.
If you want to research various projects before joining, see the Category:Projects project wiki pages for more information. You can also contact the project manager of each project to find out more information before joining.
Why is testing an emphasis in volunteer work?
This year there is a stronger focus on beta testing applications, such as the calendar on LDS.org, lesson schedules, or maps on LDS.org. Many projects involve mobile applications such as LDS Tools, Gospel Library, and the new Bible videos application.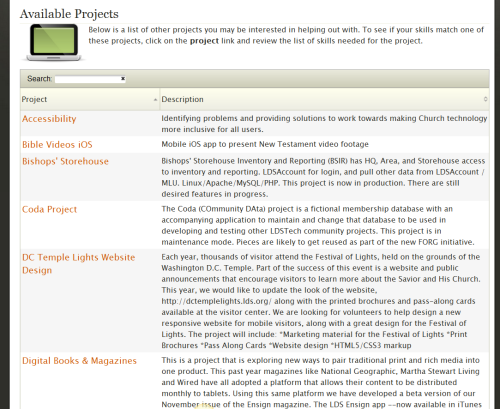 For these applications to work in different environments, the teams need to have far more robust testing than is currently available at the Church. Factors such as networks, languages, stakes, and time zones all need to be considered and tested. Tech's vast and diverse volunteer network is perfect for this important testing.
Recently, volunteers were involved in testing the calendar on LDS.org. The different ways volunteers used calendaring within their stakes as well as in different languages, computer systems, browsers and time zones provided a good source for feedback and issues. This type of testing simply could not be undertaken in an office in Utah. The members of the Church are diverse, so their needs are also diverse, but with Tech and ICS working together, the work goes forward and begins to assist all members of the Church. For more details about volunteer testing, see this video with Jeff Brown, lead tester for the calendar.
How much time does it require?
The time required can be as little as an hour a week (for a regular volunteer) to 40 hours a week (for a full-time service missionary). You have flexibility with the time commitment. Regardless of the time you spend, Tech and the Church appreciate your participation in helping move this work forward. There is such a wide array of talents and the project teams are grateful for each of them.
Can I start my own Tech Project?
Tech Projects originate internally from initiating departments (such as Missionary, Welfare, or Public Affairs). Projects do not originate from community; however, if you have an idea that you would like to pitch to the Church to start a project, you can share your idea. If your idea gets adopted by an initiating department, it could become an official project.
At the last Tech Conference, several open community sessions allowed members to pitch their ideas for Church projects. These sessions were videorecorded and sent on to the appropriate departments for consideration.
Who leads Tech Projects?
Tech Projects are usually led by a Church employee. This is because the employee has access to internal resources, contact with stakeholders, and can push through barriers that volunteers may encounter. For more details on why employees function as project leaders, see Internal leadership on project teams. Although the main leader on a project is usually a Church employee, many times Church service missionaries and other volunteers help out as project leaders as well. (A project can have multiple project leaders.)
Any further questions
If you have any questions, click the Discussion tab at the top of this page and add your question. You can also refer to other wiki pages, your project team, or the Tech Forum. Remember, everybody is a volunteer and started where you are now, so don't be afraid to sign up for a project and start helping out today.
This page was last modified on 1 April 2019, at 17:05.