Policy Exposee Import Tool
To be able to import you must have already exported an application (for more information on this see the exposee export tool documentation). Once you have the XML file you need to log into Exposee with either "Manage" or "Administer" rights and click on the Import button found at the top right of Policy Exposee.

Once you have clicked that, it will open a page where you can import your application. It looks as follows: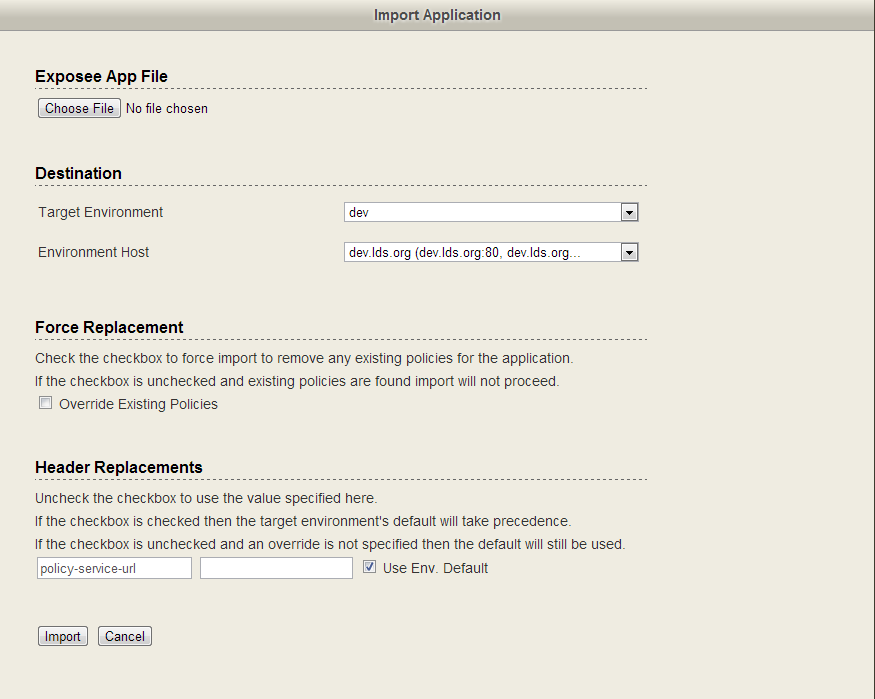 There are four different sections on the page. The first is called "Exposee App File". This is the section where you will select the XML file that you want to import. To pick it click on the button that says either "Browse" or "Choose File" depending on which browser you are using.

Once the open file dialog box is up, navigate to the place where you saved the XML file and click on it and open it. The page should then display the name of the file that you have selected.

Next, you will select the environment that you want to import the application into.

After that you will select the Environment host which is the host name of the application that you want to import into. If you only have rights to one application, it will be the only one in that list.

After that is the "Force Replacement" box. If you leave the box unchecked and that application already exists in that domain then it will not overwrite it, but leave it as is. If you check the box, it will remove any applications that are already in that environment under that Environment Host. If you try to import without checking the box and the application already exists it will fail with an error telling you that the application already exists.

The last box is the "Header Replacements" box. This if for our fine-grained permissions policies. We recommend that it not be used right now. It is suggested that you leave it with its defaults for now.
After all this you can click the Import button that is on the bottom of the screen. Once you click the button there will be a message that will pop up on the top of the screen that says that import is initiated.

Usually after a few seconds the message will change and tell you that the import has succeeded and tell you which application has been uploaded.

It will then take you to the new application that you just created. If it does not show up, you may need to force refresh the page with Ctrl + F5. You should then be able to see the application listed in the side bar.
This page was last modified on 10 February 2013, at 06:27.