WAMulator Console Page
The Wamulator Console provides information and functionality for existing sessions being run through the Wamulator.
There are two pages--one lists the users and associated sessions, the other lists recorded traffic.
Users And Sessions
The areas of the Users & Sessions page are described below: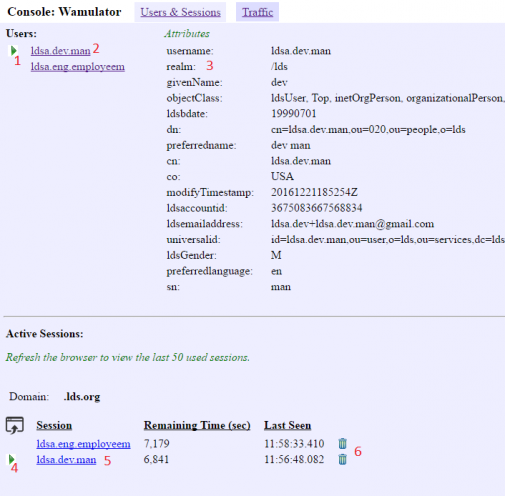 Indicates the user whose attributes are being listed on the right
Clicking on a username will display that user's attributes
The selected user's attributes
Indicates which user currently has an active session in this browser
Clicking on a username (session) switches the browser session to the selected user
Clicking on the trash can item delete's the user's session.
Traffic
The traffic page lists a specified number of requests.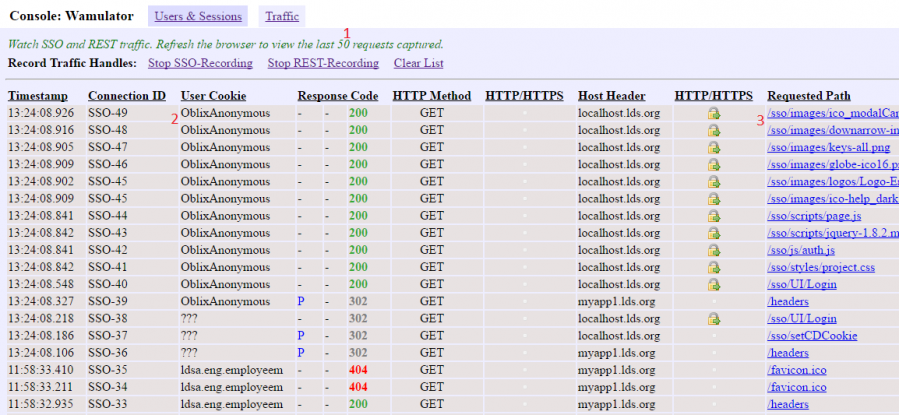 The number of requests that are stored is configurable via the "trafficLogCount" element in your config file.
Note that in some cases, the user "OblixAnonymous" is displayed. This is a "default" anonymous user--if no one is signed in, this user is used for the session.
Clicking on a link will open a new window with detailed information about the request and response (headers, etc).
This page was last modified on 21 December 2016, at 13:58.