LDS Account
LDS Account is a single user name and password for any person who interacts with online LDS Church resources. LDS Account is the primary account authentication credentials for most Church sites and applications. It reduces development costs that would be incurred as the user interfaces change, or as upgrades to security and the registration process are required. Unlike previous authentication systems, LDS Account is a branded single sign-on solution that is centrally managed at ldsaccount.lds.org.
Overview
When registering for an LDS Account, members of the LDS Church are asked to provide their membership record number (MRN) and their birth date. Members can obtain MRN information by asking their ward clerk for their Individual Ordinance Summary. A member's MRN can also be found on the back of the temple recommend.
Account recovery (such as forgotten user names and passwords) is handled through the e-mail address that you used when you signed up for an LDS Account. Although there is not currently a phone number or global support desk available to non-employees, you can review the troubleshooting information here and submit an issue through an online contact form.
While anyone can register for an LDS Account, when you register using your MRN and birth date, Church applications like LDS.org can take advantage of LDS Account credentials to determine and grant appropriate access based on your current role (for example, bishop, stake president, etc.), ward, and location. See Church Websites for a more complete list of sites that use LDS Account.
Create an LDS Account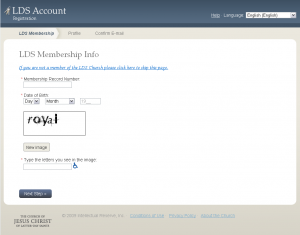 To obtain a free LDS Account:
Go to https://ldsaccount.lds.org.
Click Register for an LDS Account.
If you are not a member of the LDS Church, select the link to skip the next section.

If you are a Church member:

You will be prompted to fill in your membership record number and birth date.
Fill in the CAPTCHA and select Next Step.
Confirm your identity.
You will see your first and last name filled in.

Complete your profile details .
Enter your display name (this is not your user name that you will use to login, but rather the way your name will be displayed in some applications).
Enter your e-mail address. Double check it and make sure it is correct. You'll need your e-mail address if you forget your password.
Select your country and preferred language, then select Next Step.
Enter your desired user name and password.

Note that some sites, such as the forums and wikis on LDSTech and FamilySearch, will display your user name publicly, so please consider this when you select your user name.

Review the Conditions of Use. If you accept them, click I Accept.
Review your account information. Print, if desired.
Click Create Account.
Check your email (the one that you provided to LDS Account).
Open the email sent to you from LDSAccount@ldschurch.org.
Click on the link in your email.
Click Continue in the new window that pops up.
Your Registration is complete!
You may edit your profile information at any time by returning to https://ldsaccount.lds.org.
Why sign up for an LDS Account?
LDS Account has become the key to accessing all the resources the Church has to offer, such as family history tools, ward and stake websites, employment resources, and more. It also enables you to help do service and missionary work online, such as at vineyard.lds.org and mormon.org. The idea is to have only one use rname and password that you can use with all password-protected websites the Church has.
Following are some of the specific sites and tools that use an LDS Account:
LDS.org online personal study options
FamilySearch (including Indexing, New FamilySearch, and the Research Wiki)
Stake and ward websites
LDS Tools App
LDSjobs (Employment Resources Center)
mormon.org profile creation
Institute Course Registration (WISE)
It's About Love (LDS Family Services)
LDS Account Profile
LDS International Art Competition
LDSTech
How do I change the
settings for my LDS Account?
You may at some point want to change your LDS Account password, e-mail, or other profile settings.
To change your password:
Go to https://ldsaccount.lds.org.
Sign in with your LDS Account user name and password.
Click the Change Password option in the upper left corner.
Confirm your old password and enter your new password in the appropriate fields.
Click Update.
To change your e-mail:
Go to https://ldsaccount.lds.org/.
Sign in with your LDS Account user name and password.
Click the edit link next to Profile Information.
Enter a new e-mail address in the primary e-mail field.
Click Update.
What are Subscription preferences?
LDS Account also has a Subscriptions tab that allows you to select various topics that you want to receive e-mail information about from time to time. The current subscription options include the following:
Gospel-themed Mormon Messages from Church leaders
New or updated Church web sites
Opportunities to beta test or develop Church software
Meetinghouse Technologies
Selecting these options allows groups at Church Headquarters send you e-mail newsletters and other updates related to those interests. For example, if you select to receive information about "Opportunities to beta test or develop Church software," you will receive news from LDSTech from time to time.
See also
Church Websites for websites using LDS Account credentials for authentication.
References and Resources
This page was last modified on 3 April 2018, at 10:10.