Content found in this wiki may not reflect official Church information. See Terms of Use for more information.
CNM Group Policies
From TechWiki
Jump to navigation
Jump to search
> Meetinghouse Technology > Meetinghouse Networking
Group Policies in CNM:
NoSplash Group Policy: By-Pass the Terms of Use (Splash Screen)

Access to the Liahona wireless network requires users to accept the terms of use (splash page), which emphasize the purposes of Church-provided internet access.
Some devices, like printers, do not have a screen to accept the terms of use. In these cases, the device's IP address must be manually added to the NoSplash Group Policy in CNM to bypass the terms of use splash page.

IoT Group Group Policy: Instructions to create an IoT Group Policy

Steps to create a NoSplash Group Policy:
STEP 1: IDENTIFY DEVICE INFORMATION
Identify the device that must connect wirelessly to the network that does not support click-through navigation to the splash page. (In the device's Wi-Fi Settings, "forget" the LDSAccess network if it is still connected)
Connect the device to the wireless network by selecting "Liahona" and entering the alma3738 password.
Collect the device MAC address from the device's settings.
Sign-in to Church Network Manager (CNM.ChurchofJesusChrist.org) using your Church Account.
Step 2: REGISTER DEVICE IN CHURCH NETWORK MANAGER
1. Click the firewall serial number in the building that you want to set up your device in.

2. Once the Firewall Details screen is displayed, click the Menu on the far-right side of the screen. Then select Group Policy.

3. In the "Find a Device" section of Group Policy Manager, select NoSplash from the Policy Group drop-down, use the MAC Address drop-down menu to select the device you wish to register. Or you can manually enter the device's MAC address.
Note: Devices need to be connected to Liahona for several minutes before they will display in the drop-down. Only devices connected to Liahona will display in the drop-down.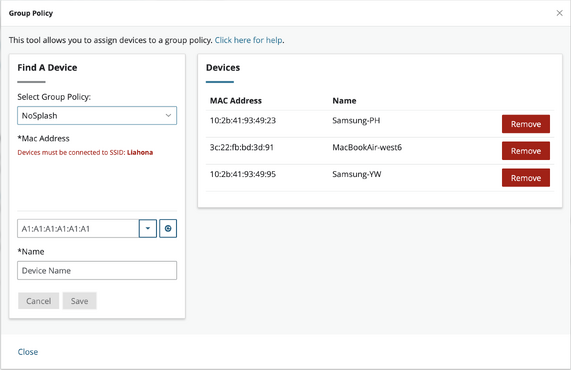 4. Add a descriptive device name under "Name" that will help identify the device in the future.
5. Click Save
6. Complete! Devices successfully added to the group policy will immediately appear on the page with the information entered. Test the device to ensure it is working properly on the Liahona network.
Note: it will take several minutes after applying the group policy before the device will begin bypassing the splash page.