LDSTech2014 contest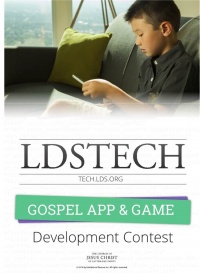 LDSTech announces the
2014 Gospel App & Game Development Contest
, held as part of the 2014 LDSTech Conference.

The Contest begins immediately. Everyone is invited to develop a gospel-centered iOS, Android, or Windows game or app that will help flood the marketplace with quality entertainment alternatives for our families.
Harness your creative and programming skills to create something worthy. Pass this along to your family, friends, and neighbors to get them involved. Visit Gospel App & Game Development Contest for rules, starter ideas, and more information.
Final submissions are due October 10, 2014 – a week before final judging at the LDSTech Conference. Get started now!
In addition to the Gospel App & Game Development Contest page, other resources include the Contest FAQ page and the LDSTech Contest Forum page.
This page was last modified on 28 July 2014, at 21:15.