Content found in this wiki may not always reflect official Church information. See Terms of Use for more information.
Lehi and Liahona Wireless Networks
From TechWiki
Jump to navigation
Jump to search
> Meetinghouse Technology > Meetinghouse Networking
Stake Technology Specialist (STS),
Technology Manager (TM.churchofjesuschrist.org) has two changes which you should be aware of:
1.     Addition of the "Lehi" wireless network (SSID)
2.     Central "Network Log" tab in TM
1.        Lehi wireless network (SSID)
Starting on December of 2020 you have the option to enable the Lehi wireless network (SSID).  With the addition of the Lehi SSID, you are able to disable the Liahona SSID during the webcast of Sacrament or other important meetings but still provide a wireless network (Lehi) for other local unit leaders that are meeting in the same meetinghouse.   
The Lehi and Liahona wireless networks (SSIDs) will be broadcast from the same Meraki Wireless Access Points (APs).    
The Lehi SSID is disabled by default.  To enable the Lehi SSID simply change the Lehi default passphrase from "2Nephi2526" to a passphrase that will be managed by each Stake Technology Specialist.  The passphrase must be updated for each meetinghouse wishing to use the Lehi SSID.  This Lehi passphrase should only be shared with unit leaders that are approved by the Stake President.   The Lehi passphrase must be updated every 90 days.  The Lehi SSID will automatically be disabled if the passphrase expires at 90 days.
The Lehi SSID will not display a "Terms of Use" splash page and will not be schedulable like the Liahona SSID. It is recommended that you create a schedule for the Liahona SSID.   Individual AP management will no longer be an option. See the example in the screen capture below from TM.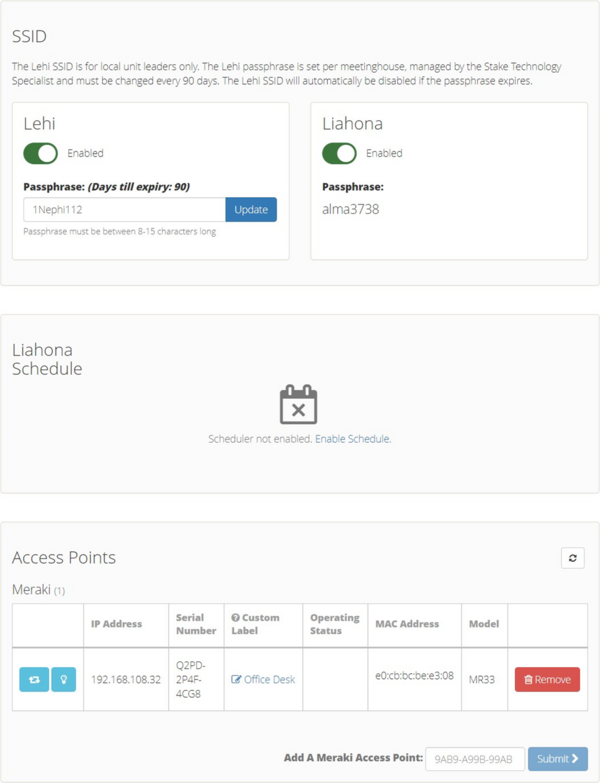 2. Central "Network Log" tab in TM
This will provide a single log history of any changes to the meetinghouse network, such as who made the change, the date, and details of the change. See the screen capture below from TM.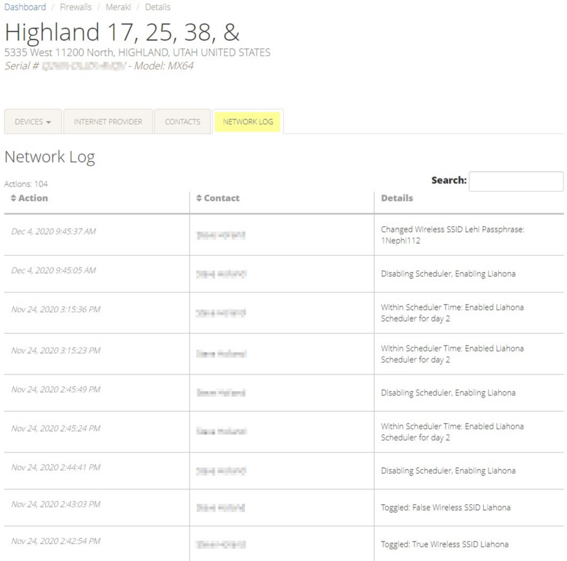 For support questions please contact the Global Services Department (GSD)
If you have general questions please contact via email the meetinghouse technology team: MHT@churchofjesuschrist.org