Content found in this wiki may not reflect official Church information. See Terms of Use for more information.
Updating Communication Preference
From TechWiki
Jump to navigation
Jump to search
>Meetinghouse Technology > Technology Specialist

Church headquarters sends all instructions and communications to TSs through email. When you have a valid email address on file, you can receive vital trainings, time-sensitive updates, and many other useful communications. Please make sure that your email preferences are properly configured in your Church Account. To receive timely communications about your TS calling, subscribe to "My Calling" in your Church profile. Instructions are given below:
Task 1: ACCESS CHURCH ACCOUNT SETTINGS
1. Sign in to account.ChurchofJesusChrist.org.
2. Click the profile icon in the top right and select Sign In.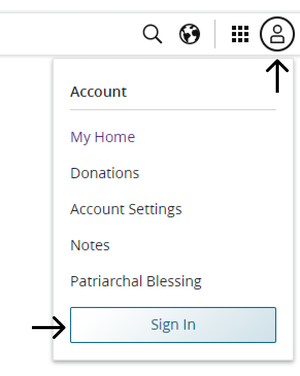 3. Once you are logged in, click Account Settings on the top right of your Dashboard.

Task 2: CHANGE EMAIL SUBSCRIPTION SETTINGS
1. Click Email Address in the left pane, and make sure the proper email address is saved.


2. Click Email Subscriptions in the left pane, and check the box next to "My Calling."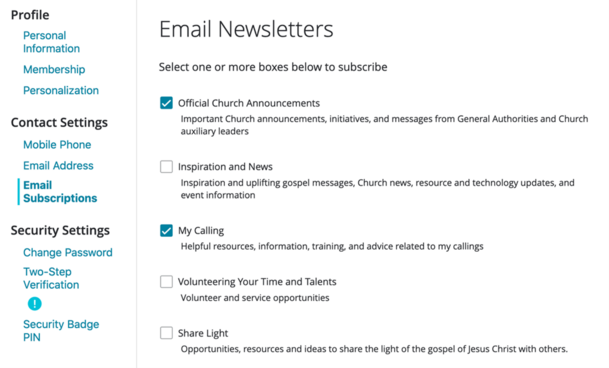 3. Make sure that the box next to "Unsubscribe from All" is not selected. Click Save.
4. Click Personal Information in the left tab.
5. Select your preferred language from the drop-down menu. Note that while the Church sends many emails in dozens of different languages, emails specific to TSs can be sent only in English, Spanish, Portuguese, or French. Click Save if you make any changes.
Complete! You are now subscribed to email communications related to your calling as a TS.