Content found in this wiki may not always reflect official Church information. See Terms of Use for more information.
Transferring Zoom Account to Church Zoom Account
From TechWiki
Jump to navigation
Jump to search
>> Meetinghouse Technology >> Virtual Meeting
Issue/Question:  
How does a Stake called Technology Specialist transfer a Zoom account that was purchased with unit funds to the General Church Zoom account?
Note:
Many local leaders purchased Zoom accounts before General Church Zoom accounts were available.  Local units that have already purchased an account directly from Zoom can either keep it or transfer it to a Church account, however Local units are encouraged to transfer these accounts to a Church Zoom account.
Solution / Fix
Step 1. Go to https://meet.churchofjesuschrist.org.  
Step 2. Select Enroll under the Zoom Accounts for Church Units option.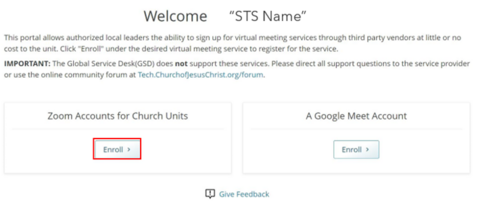 Step 3. The following screen appears. Under Add Account select the unit you would like to create a General Church Zoom account for.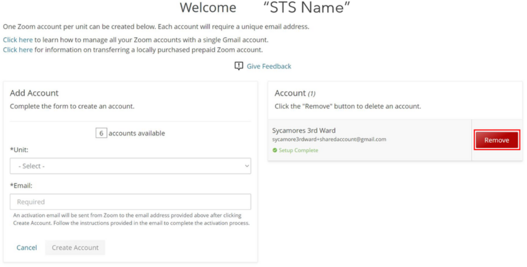 Step 4. Enter the email address associated with the local unit purchased Zoom account.
Warning:
Requesting a Church Zoom account with an email address already associated with a prepaid Zoom license will cancel the existing license and future charges.  If applicable, Zoom will offer a prorated refund of prepaid fees.
Step 5. Click on Create Account
Step 6. An email will be sent to the email address listed.
Step 7. Click on the Approve the Request option in the "Zoom Account Invitation" email sent by Zoom.
Step 8. A new Screen will appear.  Click on Next: Review Account Balance on the new account information page to continue the account transfer process.
Step 9. On the invitation acceptance page, click on Send refund to Church Meetinghouse Technologies' s account if the existing Zoom account was paid for with Church funds.
Step 10. Check the box that says I agree to join the new account.
Step 11. A confirmation email will be sent to the email address entered in Step 4 notifying them that the transfer process has begun and will receive another email once it is completed.